Good Morning bloghoppers! Welcome to iDreamofClean!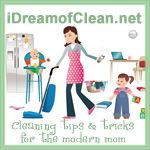 A little bit about me.
I'm a wife. I'm a mom. And I don't like to clean!
That's right. I don't like to clean!
But, I DO like cleanliness!
That's why I've made it my mission to find the best tips and tricks to make the inevitable task of cleaning easier. If there's a solution or product that can make cleaning a bit more bearable, I'm going to share it with you.
A little bit about the blog.
This journey began 4 1/2 months ago and it's been a wild ride ever since! Apparently there are moms everywhere who need a little encouragement and help when it comes to cleaning. Wouldn't it be nice if we could just all hire professionals? Well, the next best thing is to have a cleaning schedule and implement the tips and tricks you learn to make the job easier, so we'll be releasing some schedules very soon! Until then, I'll share with you some of the most popular posts so far:
Clean Your Kitchen in 5 Minutes or Less

Make Your Own Foaming Dish Soap

Prevent Clogs in the Bathroom Drain

10 Quick Cleaning Tips You Can Implement Today

10 Foolproof Ways to Reduce Clutter

Serve Watermelon Without Making a Mess
A little bit about you.
You are the reason for this blog. If you have a tip or trick that would be beneficial to others, please contact me about guest posting. Or, you can always share your knowledge in the comments. I try my best to respond to questions so please feel free to ask!
Let me know a little bit about you today…who you are, where (or if) you blog, and do you like to clean?

I'd love for you to stick around, subscribe via RSS or email, and connect on facebook or Twitter. Let's get to know one another!
iDreamOfClean
I'm a wife. I'm a mom. And I don't like to clean! With a house full of boys, though, cleaning is inevitable. That's why I've made it my mission to find the best organizing and cleaning tips. Hopefully, those tips will help us spend less time cleaning and more time with the ones we love.
Latest posts by iDreamOfClean (see all)